Middleton West Coast
- Sign up for our Information Session
We are excited to invite you to the Information Session of our new Middleton campus located in the West Coast. Find out how your family will experience a high-quality international curriculum and benefit from special early bird offers for a limited time only.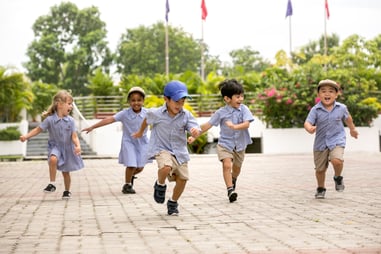 The popular Middleton International School will open its third campus driven by the strong demand from parents for its unique educational approach offered at an affordable price.
The Middleton West Coast campus will open its doors to welcome students from March 2022 (subject to CPE approval). Located right next to Haw Par Villa MRT station, this campus caters to learners from Nursery 2 to Grade 5.
Middleton was launched in 2017 in Singapore by the EtonHouse International Education Group to offer a high-quality international curriculum at an affordable fee. It has grown from strength to strength to become a school so well-loved by families that the two campuses in Singapore were soon oversubscribed. The opening of this West Coast campus will offer more families the opportunity to be a part of the Middleton community.
For parents wanting to learn more about the school, there will be a series of virtual Information Sessions in the coming weeks. Parents are welcome to register for these to learn more about our
Rigorous inquiry-based, concept-driven approach to learning

Reggio Emilia inspired Inquire-Think-Learn curriculum for the Early Years

International Primary Curriculum that is integrated with the British National Curriculum and Singapore Maths for the Primary years
Specialist programmes, additional languages and ECA offerings
A strong contentment and well-being programme in partnership with the Contentment Foundation in the US
Well-designed and innovative facilities that encourage a holistic and well-rounded development
Specific details for enrolment, such as the eligibility, admissions process, assessments, start date, meal and transport arrangements, etc

School fees

and the special early bird discounts* for the founding families
Next Info Session:
Select your preferred timing in the form. More timings will be added over the next few weeks.
*terms & conditions apply
Click here to read Frequently Asked Questions
Register your interest here
At Middleton, your child will enjoy an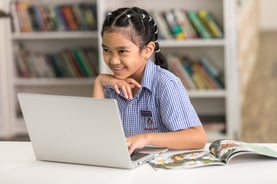 Outstanding International Curriculum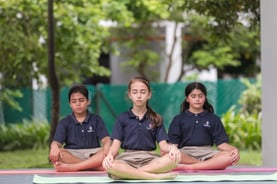 Focused on Holistic Learning and Well-being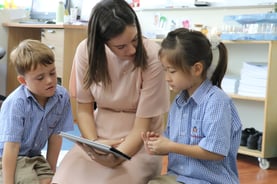 Delivered by Passionate Educators from Diverse Backgrounds
Part of the EtonHouse International Education Group, a Middleton education also comes at a very affordable price point.
"Middleton is a special place where everything we do has students right in the centre of it. Our parents and my entire team come together to create a space where learning thrives, and the learner thrives."
Senior Principal of Middleton International School

Sally Lodey
From our very first visit, the school felt more like a family: There is camaraderie among the teachers, the staff, and the parents unlike anything we had ever experienced. The class sizes are manageable, the children are happy, and our daughter loves attending the school. I would go as far to say it is the best school she has ever attended. Overall, the lower fees are a bonus, but we are thrilled and would recommend Middleton to any parents considering a new environment for their children.

Emma Stratford
As soon as I walked into Middleton and saw the smiles of the children and staff, I knew we were in the right place. The principal was very assuring and I just knew I wanted to be a part of this school...Furthermore, because MIS follows the IPC, my children pick up skills and knowledge that are transferable, and they can fit back to the UK education system if we return to the UK. Meanwhile, the boys have made so many friends from all over the world and tasted food they never would have back at home. The school has opened their eyes to the world.

Nitya Sivaprasad
The curriculum is extremely well designed. I love the fact that Middleton follows the Singapore MOE curriculum for Math and has adopted the International Primary Curriculum for English and Integrated Studies. This synergy is helping in the development of academic skills along with augmented logical reasoning and analytical abilities. Moreover, the school strongly tries to inculcate the values of compassion and service through various community-based activities. Overall, we are extremely happy with Middleton!
When will classes commence?
We look forward to starting the classes in February 2022, subject to CPE approval. You are welcome to register your interest as early as possible as there are limited seats for each year level, and placements will be offered on a first-come-first-served basis.
What are the year levels at this school?
At the start, we will be offering Kindergarten 2 to Grade 5. We intend to start Nursery 2 and Kindergarten 1 in April 2022, subject to CPE approval.
What is the year level placement?
| | |
| --- | --- |
| The year they turn | Year Level Entry |
| 4 years | Nursery 2 |
| 5 years | Kindergarten 1 |
| 6 years | Kindergarten 2 |
| 7 years | Grade 1 |
| 8 years | Grade 2 |
| 9 years | Grade 3 |
| 10 years | Grade 4 |
| 11 years | Grade 5 |
What happens to the students after they complete Grade 5?
Our graduating students from Grade 5 will automatically be transferred to our Tampines campus to continue their secondary and high school education. No transfer fee is required.
Can I visit the school?
Not at the moment as we are still undergoing renovation. We hope to offer physical school tours once we complete the renovation.
Do you accept students who require a student pass?
Middleton has been EduTrust certified by the Singapore Committee of Private Education (CPE) in March 2020. We can now accept applications that require a student pass.
Is there a 30% nationality cap at this campus?
While we do not have such restrictions for this campus, the school will maintain a balance of diversity in each class to ensure a rich experience for our learners.
Does the school offer any additional languages?
Yes, students can learn either Mandarin or French as part of their school curriculum at no extra charge. Students who do not meet the required English proficiency level will be required to undertake the English as an Additional Language (EAL) Programme (chargeable). We may consider offering other language options too if there is a demand.
Can existing MIS students transfer to this school?
Yes, existing students can apply for a transfer. A transfer fee applies for transfers between campuses. Please contact your school's Parent Liaison Officer.
Is there any entrance assessment?
The school will assess every application to ensure that we can cater to the unique needs of the child. Sometimes, we may request for the child to do an interview with an academic team member or sit for a paid assessment to ascertain their academic levels.
https://www.middleton.edu.sg/admissions-eligibility/
About
Middleton International School offers a high-quality international curriculum at an affordable fee. We aim to groom independent thinkers who take responsibility for their learning and are compassionate, responsible and active global citizens. The school is part of the EtonHouse International Education Group.